Mark Demicoli
6 June 2009 10:39:05 AM
We are proud to announce that an update to ClickBook will be rolled out before the end of the month. Once again, almost all features and improvements are a result of direct feedback from our customers, so thanks for your help. More details will be provided in the next couple of weeks including how to prepare for the forthcoming updates and outage details. Stay tuned!


The forthcoming update includes:
* Ability to export Client Files for backup
* The Client File 'Notepad' now allows multiple notes, sorted by date, and notes can be marked as 'important' (see screenshots).
* "All Day" checkbox in booking form (see screenshots).
* Easier selection of Start Time & End Time using a single box (see screenshots).
* Ability to create multiple address locations in a single profile (see screenshots).
* The previously removed iCal attachment in booking confirmation screens and emails is back after popular demand.
* Ability to hide profiles from Public Services Page.
* Appointment Start Interval now supports 10 minute and 45 minute interval
* Client File details are now all updatable regardless of whether the client is 'self registered' (see screenshots).
* Clients can now change their email addresses.
* Appointment History items are now links for easy access from the Client File.


Client Files
All details are now editable in 'locked' or 'self registered' Client Files. When a client updates their profile, you have the opportunity to accept all or some of the detail changes. You can also set ClickBook to automatically update your Client Files.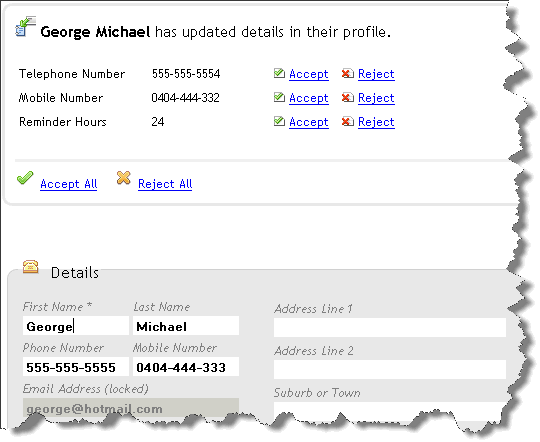 The Notepad feature has been updated to allow multiple individual entries, and allows you to mark notes as 'Important'. File Notes are also now displayed when a staff member selects a client for an appointment, so that important information from previous visits can be relayed more effectively.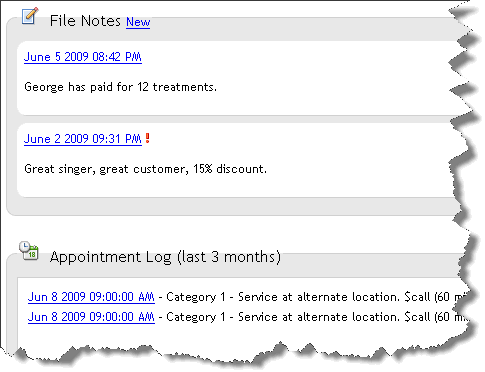 Multiple Locations
That's right! ClickBook (finally) supports multiple address locations in a single profile.


Booking Form
Simpler, 1-clicks selection of Start & End times, and "All Day" box.